COFFEE MUGS
One of the greatest problems plaguing mankind for years has been the difficulty of consuming liquids. Scientists have realized that a certain quantity of liquid product is required for daily, healthy living, but how on Earth are average people like you and me (mostly you) supposed to transport this inherently slippery substance to our mouths or whatever orifices we plan on pouring into? In early 1734, Sir Alfred Barnes created an invention he dubbed "the Marvelous Yarne Spindle," a tool he claimed would assist in moving liquids to a user's mouth by activating a complex series of levers and pulleys fueled by the Earth's gravitational field. Unfortunately this machine ended up killing thousands and led to the invention of "The Marvelous Classe Actione Lawsuite."
Although Sir Alfred Barnes may be dead now, his idea lives on and City Name Sports Team LLC is proud to present you, the average person, with an item engineered for the sole purpose of flawlessly transferring liquids from an originating source to a destination of your choice, most often your very own mouth! We employed the finest MIT Engineering School graduates to design this radical new item we call "a Coffee Mug," and we are proud to announce that after over $15 billion of research funds and 40 years of design, our product is complete and ready for purchase!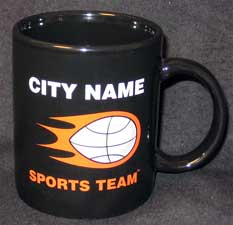 Front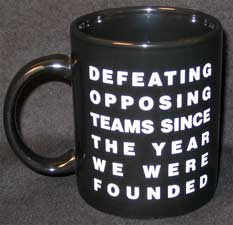 Back
The City Name Sports Team coffee mug comes in a very shiny black ceramic frame, able to carry 11 ounces of nearly any liquid substance you can find in the grocery store or street alleyway. If you find yourself in a particularly sticky situation, this mug can also be used as a projectile or melee weapon, causing considerable damage to any toddler or Alzheimer patient who makes the critical mistake of messing with you. The front of the mug displays the world famous City Name Sports Team logo as well as the world famous City Name Sports Team name, "City Name Sports Team." Upon rotating the mug 180 degrees, you will be greeted by the festively vague message, "DEFEATING OPPOSING TEAMS SINCE THE YEAR WE WERE FOUNDED."
This coffee mug is perfect for any person who wants their friends and family to know they are a very big fan of particular sporting events, thereby seamlessly allowing them to conform and become another productively anonymous member of society who won't at all be suspected of killing hobos on subway tracks. What's a better way to say "hey society, I fit in!" than with this revolutionary new device? I sure as hell can't think of one, and if you claim you can, then you're lying and I hate you.
| | | | | |
| --- | --- | --- | --- | --- |
| ITEM NAME: | ITEM PRICE: | SHIPPING: | TOTAL: | PURCHASE: |
| CNST Coffee Mug | $7.95 | $4.50 | $12.45 | |
We accept all major credit cards. US orders will usually ship the same week the payment is cleared, and can take 1 – 4 weeks for delivery depending on how incompetent either we or the US Postal System are. International orders can take anywhere from 4 – 8 weeks for delivery. All orders are packaged and shipped by myself, manually, so please don't mistake this operation for some complex and complicated service like the one Amazon has; it's just one guy selling clothing.