STICKERS
People seem to take intense pride in displaying things they enjoy on the back of their cars. It's challenging to travel anywhere without seeing political stickers, band logos, images of Calvin peeing on a certain NASCAR number of choice, and the dreaded Jesus fish. Bumper stickers are a fun and festive way of telling the world that hey, you own a sticker and probably a vehicle of some sort as well! So why not purchase a sticker showing off the patented ambiguous City Name Sports Team ball? I can't think of any reasons offhand, and I bet you can't either, even if you spent the next 50 million years trying to brainstorm a possible excuse.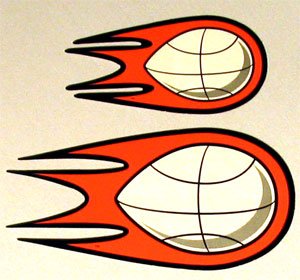 Front
These vinyl, two color, imprint die-cut stickers are extremely high-quality, guaranteed to last under any weather condition for the life of your car, unless of course you live on the sun or some planet where it rains acid and every time you stop at a street light, a tiny leprechaun jumps out of the bushes and attacks the back of your vehicle with a high intensity flamethrower or a laser gun which shoots out high intensity flamethrowers. If you live in an area where this kind of crap routinely happens, then I expect you've got bigger issues to deal with than worrying about stickers.
Each order comes with two stickers. The larger sticker is 6 inches long and 3.5 inches wide. The smaller sticker is 4 inches long and 2.75 inches wide.
We accept all major credit cards. US orders will usually ship the same week the payment is cleared, and can take 1 – 4 weeks for delivery depending on how incompetent either we or the US Postal System are. International orders can take anywhere from 4 – 8 weeks for delivery. All orders are packaged and shipped by myself, manually, so please don't mistake this operation for some complex and complicated service like the one Amazon has; it's just one guy selling clothing.